Traffic and Income Report – July 2015
Hi there.
Bjork here. I'm Lindsay's husband and co-lover of Sage. Every month I hop on ye ole' blog and write up a summary of the things that we're learning as we grow Pinch of Yum as a business.
We've been doing these income reports for quite some time. As a matter of fact, this is post #48 in the series, meaning we're one report away from having done these for four years. And that's just the income reports. Before we started doing these reports Lindsay had been blogging for almost two years.
It's been a slow and steady build for us. At a quick glance it might seem like things came together pretty quickly, but for Lindsay and I it feels like a really long time. Is it possible to quickly grow a blog or a website? You bet. We've seen many people do it. Our story doesn't involve any quick successes though.
Ours is a story of slow and steady growth over a long period of time. Day in and day out, post after post, email after email. We're proud of the house we've built, but we've built it by laying tiny brick after tiny brick, day after day, year after year.
The fast track to success is a really good place to be if you can find a seat. Just know that seating on that train is fairly limited. There are other trains with plenty of room though, like the one we're on. This train is always moving forward, just not as fast as some of the other trains. It plods along making steady and consistent progress.
It might not sound very exciting, but here's the thing with the slow track train: if you're committed to the long term, if you keep your head down and do the work on a consistent basis, then one day you'll look up and be amazed at how far you've come. Once you experience that feeling, you'll realize that the slow track isn't that bad. You'll understand that it's worth it to make a little bit of progress every day, even if it doesn't feel like a huge improvement. You'll start to enjoy the ride more and you won't be as tempted to jump off your train and get onto a faster track (which usually derails your progress).
When you enjoy the ride it's easier to stay on the train, and the longer you stay on the train the further you'll get, and the further you get the more you'll enjoy the ride.
Bottom line: Find ways to enjoy what you're doing, show up every day, and stick with it for the long term.
Let's take a look at the numbers for July.
A quick note: Some of the links below are affiliate links. All of the products listed below are products and services we've used before. If you have any questions about any of the income or expenses you can leave a comment and I'll do my best to reply.
Income
Sponsored Posts/Speaking – $8,200
Bluehost – $7,820 –> this income comes from a page where we show people how to start a food blog in three easy steps.
AdThrive – $7,497.35
Workshops – $5,685
Yellow Hammer Media – $4,858.56
Tasty Food Photography – $3,065.30
Ultimate Bundles – Photography Bundle – $2,926.11
sovrn – $1,720.37
Amazon Associates – $1,352.20
Federated Media – $1267.27*
Gourmet Ads – $1,171.45
How to Monetize Your Food Blog eBook – $855.00
Genesis Theme – $742.30
Go Sugar Free Course – $461.00
Swoop (via BlogHer) – $375.91
Google AdSense – $356.30
Elegant Themes – $303.50
The Creamy Cauliflower Sauce eCookbook – $242.10
Everyday Healthy eCookbook – $150.10
Food Innovation Group – $124.20
Martha's Circle – $53.47
AWeber – $28.80
*Federated Media is super delayed with releasing earnings reports, which means we don't have hard numbers when we publish these reports. We estimate earnings by using CPM earnings from last month and multiplying that by the traffic we experienced this month.
Expenses
If you're interested in learning more about some of the ways that you can monetize a food blog, we encourage you to download this free ebook, "16 Ways to Monetize Your Food Blog," from our sister site, Food Blogger Pro!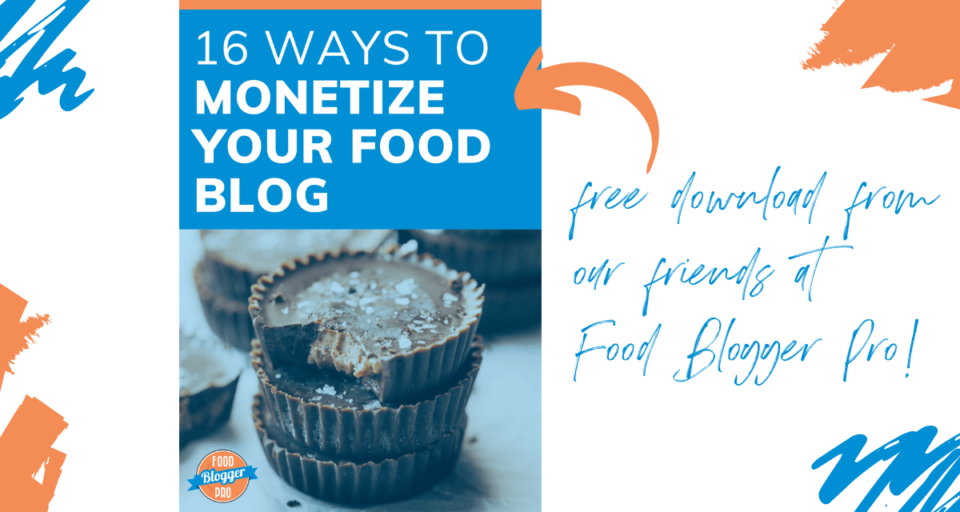 Traffic Totals
Below are some screenshots from Google Analytics. You can click on these images to view a larger size.
Traffic Overview
Top Ten Traffic Sources
Mobile Vs. Desktop Vs. Tablet
Top Traffic Channels
Income, Expenses, and Profit Totals
You'll notice that we've stopped totaling up all of the numbers for income, expenses, and profit.
Our hope for these reports isn't to show how much income we're creating from a blog, but where and how we're creating an income from a blog.
It's much more helpful if you critically examine the sources of income and think about how the blog is earning that income vs. just glancing quickly at an income total. Much like a puzzle, the picture is more satisfying if you figure out how the pieces fit together. It takes more work, but I know that you'll learn more in the process because of it.
We'll continue to report sources of income and sources of expenses, but we'll no longer add up the totals for those.
An EBook Is Just The Beginning, Not The End
Lindsay's eBook Tasty Food Photography has sold just over 5,500 copies since she released it in March of 2012.
Lately, we've started to look at the sale of an eBook a little bit differently than we have in the past. We now view a sale of Tasty Food Photography as the start of a relationship instead of the end of a sales process.
For example, in the past, after someone purchased a copy of Tasty Food Photography, they'd get their download, they'd get a receipt, and then they'd never hear from us again.
Now, after someone purchases Tasty Food Photography, they immediately get this email:
At this point, we have an autoresponder series which contains 12 emails with tips, tricks, advice, and bonus content, all of which is focused on improving food photography.
This type of email list is extremely valuable because we know that these people have a really specific thing in common – an interest in food photography.
That's where the $2,926.11 from Ultimate Bundles comes into play. This was a photography bundle that Tasty Food Photography was a part of. For those that aren't familiar, a bundle (in this instance) is a group of digital products that are offered at a super deep discount. This particular bundle offered $555 worth of photography eBooks for $37. The eBook author (that's us) gets a really generous affiliate commission on these bundles if they include their eBook in the bundle.
It's an insane deal for the customer and can be a really significant income earner for the author…if it's promoted to the correct audience.
We knew that the general Pinch of Yum readership wouldn't be a good fit so we avoided sending out a broadcast email to the entire POY list or publishing a post about. The Tasty Food Photography email list, however, was a perfect fit for this, and we knew it could be an awesome deal for those that purchased it. So we sent a basic email explaining the bundle to the TFP email list.
The result? $2,926.11 of affiliate commissions and a spot as the top converting affiliate.
We didn't write any wizardly sales copy and certainly didn't have any secret internet marketing tricker we applied.
This is a mouthful, but here's why that email worked so well: it was a simple email sent to people we had been consistently talking to letting them know about a genuinely good deal that was aligned with their interests.
Food Blogger Pro Traffic Through The Roof!
Here is the Food Blogger Pro for July:
Pretty impressive huh?
Take a look at how that's looks on a chart though:
Seems a bit off, doesn't it?
At the end of July, I logged into the Food Blogger Pro Google Analytics account, clicked on the real-time analytics, and saw that we had over 1,000 "real-time" sessions on the home page. While I'm hopeful that FBP traffic will someday be that high I knew that something was off, as the average daily (total) traffic is usually around 1,000 people.
I checked in with some developers, a consultant, our hosting company, and even asked on the Google Forums, but came up empty in troubleshooting what was going on. That's when FBP team member Raquel dug into the analytics and found that the issue was coming from two sites that were scraping FBP's blog.
Dang.
While the issue wasn't dangerous, it was definitely annoying, as it was really throwing off our analytics.
Enter the DMCA takedown process.
For those that aren't familiar, DMCA stands for Digital Millennium Copyright Act. A DMCA takedown is an official notice that you can send to a website or hosting company notifying them that they're using copyrighted content and request (or demand) that the content be taken down.
Usually, I'd recommend that bloggers be more on the liberal side with sharing their content, as long as it's not the full recipe or full post. The benefit of a link (usually) outweighs the negatives of someone using some of your text or your image. This situation was a bit different though, as the sites in question were essentially replicating the Food Blogger Pro blog.
The next issue was communicating with the hosting company, which was located in China. I used Google Chrome's translate feature to read through their site, found contact information for their support team, and sent a DMCA in both English and Chinese. I can't imagine how terrible a poorly translated Chinese DMCA takedown must sound!
To be honest, I have no idea the authority a DMCA holds internationally, but my assumption is always that people and businesses want to do what's right unless they prove otherwise. In this case, my assumptions held true as the hosting company wiped out the sites after a few days.
Frewfa-ta.
250,000 page views in a day is fun, but only until you figure out that it's robots, not humans, that are creating that traffic.
Food Blogger Pro Update
Food Blogger Pro officially passed 1,000 members in July. We've added eight new courses this year and we're six episodes into the FBP podcast. It's been an exciting year of slow but consistent growth (see intro at the beginning of this post).
Here are some of the things that have helped us grow FBP over the past year:
A Better Way To Do Recipe Videos
This is an update that I'm especially excited about.
Those of you that have been closely tracking along with what we've been doing on Pinch of Yum know that we've been experimenting with recipe videos for a long time. But it's a tough nut to crack. On one hand, the need for video content is unparalleled and will undoubtedly be growing. On the other hand, video can be time-consuming, expensive, and frustrating.
There are two truths with recipe videos:
It's massively important that food bloggers start incorporating video into their content.
It's really hard (and usually expensive) to create high-quality recipe videos.
Here's my prediction – in a few years, a recipe post without a video will be comparable to a recipe post today that doesn't have photos.
Video is a huge advantage. It's not a matter of if it's important or not, it's a matter of who will realize how important it is and start implementing it as soon as possible.
We're in the early stages of trying to figure out a solution to this problem and we're excited about the possibilities. If you want to follow along with what we're doing and possibly become an early adopter of some of the things we're testing you can sign up for our video VIP
Should be fun!
Because Of You
It's because of you that this thing we call Pinch of Yum can exist as it does today. Thank you so much for making these recipes, leaving comments with your love and feedback, and sharing this food around the table with your families and friends.
Every month we use a portion of the income from the blog to support a special project at The Children's Shelter of Cebu. We view it as a donation from the POY community, not just Lindsay and I.
This month we're supporting CSC by donating to their meal fund. Every child at CSC gets three solid meals a day. All 90+ of them! That's a lot of hungry mouths to feed.
If you're interested in learning more about CSC you can check out their website here: http://www.cscshelter.org/
The post Traffic and Income Report – July 2015 appeared first on Pinch of Yum.