Traffic and Income Report – June 2016
Hi there!
Bjork here checking in for Pinch of Yum's June traffic and income report. Lindsay is doing a workshop at the studio today so I thought it would be a good time to jump in and catch up on the income reports. The last few reports were published a bit late so it's nice to catch up and get things back on track.
For those that aren't familiar, we started doing these monthly reports almost five years ago.
When we first started publishing these they were a way for us to report back on the things that we were learning as we attempted to build the blog into a business. Truth be told we didn't really know if it was even possible to have a blog that was a business. We thought it was, but we didn't know for sure. We considered it an experiment.
Over the years, after lots of hard work (and time), we started to see some results from the experiment. Lindsay found ways to improve the content she was producing, which in turn helped to increase traffic to the site, which in turn made it possible to start creating an income.
In many ways these reports have morphed from blogging reports to blogging+business reports, as Pinch of Yum has transitioned from a 1.25 person blog (Lindsay + some of my time) into a full-fledged business with an official team and an "office" (we call it the studio).
Are you interested in doing some similar to what we've done with Pinch of Yum? My advice to you is to find something that you love doing, not just something that you love the idea of doing.
There's a big difference.
It's an important concept to understand. Here's why:
Your work is like a train. It's the ride. It's the thing that moves you along each and every day. If you love doing it then you can get up every day and make progress. It might be slow, especially when you're just getting started, but it doesn't matter, because you love doing it. Even if the train moves just a couple feet you don't feel like it's wasted time. You enjoy it. And you can get up tomorrow and do it again, this time with a few thoughts on how you can do it a bit better. With a food blog that work equates to developing recipes, photographing, planning your content, writing and communicating via text, etc, etc, etc…
When you love the idea of doing something you think about the destination, where the train can take you, not the ride that is required to get to the destination. If the train only moves a couple of feet it's frustrating and discouraging, because you just want to get there. It's less about enjoying the ride and more about trying to move things forward asap so you can arrive at the destination. With a food blog, the destination often equates to being your own boss, having a flexible schedule, having "followers", getting lots of likes, etc, etc, etc…
Those are all great things. It's not that you shouldn't want those things, it's just that you should try and find a train that allows you to enjoy the ride AND the destination, not just the destination.
The good news is that there are thousands of trains that you can board. There's no single railroad that leads to each destination. So, as you ponder the train you're currently on, or one that you might be boarding, remember to think about what the ride will be like, not just the destination.
Let's jump in and take a look at the numbers for June…
Income
Note: Some of the links below are affiliate links. All of the products listed below are products and services we've used before. If you have any questions about any of the income or expenses you can leave a comment and we'll do our best to reply.
Expenses
If you're interested in learning more about some of the ways that you can monetize a food blog, we encourage you to download this free ebook, "16 Ways to Monetize Your Food Blog," from our sister site, Food Blogger Pro!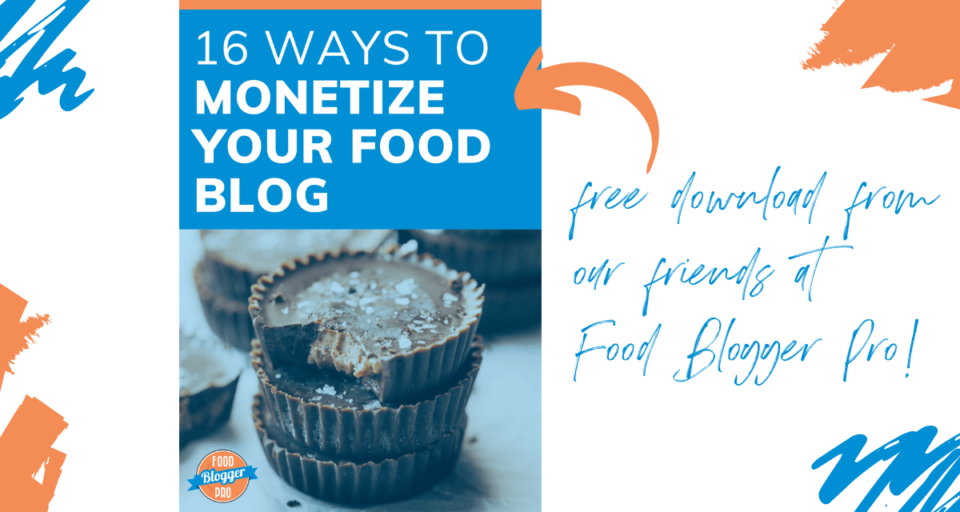 Traffic Totals
Below are some Google Analytics screenshots from the month of June 2016.
Traffic Overview
Top Ten Traffic Sources
Mobile vs. Desktop vs. Tablet
The Summer Slump
I love almost everything about summer. The weather. The plants. The sports. The cabin. The grilling. It's awesome.
The one thing that's not so great is the traffic. For us, at least.
Every industry has seasons, and for the type of recipes that we publish on Pinch of Yum, the peak season tends to be January through March while the valley season tends to be June through August. i.e. The Summer Slump.
2016 has been interesting in that we experienced our highest traffic month ever in January (woo hoo) followed by a slow but consistent decline each month after that (womp womp).
Truth be told neither Lindsay or I spend a ton of time in Google Analytics, but it was good to jump in while preparing this post and do some digging. Here's what I found:
Pinterest Traffic: January 2016 – June 2016
It seems to be that the biggest impact of lost traffic comes from Pinterest, with the most noticeable change taking place around the middle of March.
Direct Visits: January 2016 – June 2016
Around the middle of April, we also see a drop in Direct Traffic to the blog. I did some digging and couldn't figure this one out. I'll report back if I do.
Organic Search Traffic: January 2016 – June 2016
Organic Traffic has remained relatively stable throughout, with an expected but not significant dip after Q1.
So what's the big-picture takeaway from all of this? In business terms, the takeaway is that it's important to stay diversified and build your following in multiple places. Another important (but less talked about) takeaway is that it's important to think about how you can build your business without needing to direct people back to your website.
Not that this has to be your ultimate strategy, but at the very least it's an important concept to understand. Companies like Food Network, Buzzfeed, and Tastemade have started to (or always have) built their brand on platforms with no intent of moving them off the platform and onto their website.
But there's another takeaway I want to mention. It's not really a tip or trick or business kind of takeaway. The takeaway is that building something can be kind of scary. True, you have control of what you're doing, but at the same time, it feels like you don't have any control at all. Things change quickly, and when those things change they can have an impact on all your hard work, and that impact can make you question your hard work and whether it's worth it to keep doing what you're doing.
The good news is that, as far as I know, getting frustrated by changes and backwards progress is a universal feeling. I feel it. Lindsay feels it. Almost everyone we talk to feels it. Do you feel it? If you do, know that you're normal.
My advice is to not try and avoid those feelings but to acknowledge that they'll always be there and view them as part of the ride (see intro above).
3 years, not 3 months. Always improving, not always growing. Enjoying the ride, not trying to reach the destination.
Video
Instagram FTW!
Pinch of Yum videos had a lot of engagement on Instagram in June, but not so much on Facebook.
True, Pinch of Yum's following is about 3 times bigger on Instagram than Facebook, but the video results were 50 times (or more) better on Instagram June.
For instance, this iced coffee video had almost 75,000 views on Instagram after 24 hours, whereas the same video on Facebook had under 1,000 in 24 hours.
Two takeaways with this:
Develop a skill, not just a platform. It's important to think about developing a skill (in this case, creating video) and not just developing a platform. If you have a choice between getting good at Facebook or getting good at video, pick video. If you have a choice between getting good at Instagram vs. getting good at photography, pick photography. The impact and effectiveness of platforms will always be changing but your ability to create compelling content will go with you no matter where you are.
Reach people where they are. This ties back to something I already mentioned (specifically, this: It's also important to think about how you could build your business without needing to always direct people back to your website). It's impossible to know for sure, but my guess is that only a few hundred people out of the 175,000 that viewed that video on Instagram ended up on Pinch of Yum. Those visits translate into maybe a few dollars. But that doesn't mean the Instagram video wasn't valuable. Pinch of Yum, along with the brand we were worked with for that video (Delallo) received huge exposure from the video, even if it didn't mean getting many "visits." If we forced people to leave Instagram to consume the video we wouldn't have seen the same type of value exchange.
Nutrifox
We're in the last few days of our beta launch of Nutrifox.
Not familiar? Here's the quick back story on why we built it:
If you create food and recipe content you know that it's a really competitive niche. There are thousands of websites, blogs, and social media accounts that share food and recipe content, and hundreds more that are starting each and every day.
It's a crowded space.
In order to stand out, you need to find ways to add value to your recipes. That's why a simple recipe isn't enough anymore. It has to be an awesome recipe accompanied by superb photos and perhaps even a video.
As you know, it's a lot of work.
But are there other ways you can add value to a recipe without adding hours of work to your day?
We think there is. That's why we created Nutrifox.
Nutrifox allows you to extract valuable information from your recipe's ingredient list and embed it onto your website. The benefit is that you get that additional layer of value-added to every post with very little work.
As a matter of fact, creating a Nutrifox embed takes less than a minute.
Right now we're focusing on perfecting nutrition labels. You can see examples on Pinch of Yum, like this one:
We're really pumped for Nutrifox.
As I mentioned before, we're still in the early stages of building this tool, but we wanted to give people access as soon as we created a solid first version.
For this early-bird launch, we're offering one year of access to Nutrifox for $49. That's for one year. It's a crazy low price IMHO. We wrap up the early-bird pricing on Tuesday, July 26th.
Click here to sign up for Nutrifox. <—–
It's been really fun to see Nutrifox labels out in the wild lately!
Because Of You
It's because of you that this thing we call Pinch of Yum can exist as it does today. Thank you so much for making these recipes, leaving comments with your love and feedback, and sharing this food around the table with your families and friends.
Every month we use a portion of the income from the blog to support a special project at The Children's Shelter of Cebu. We view it as a donation from the POY community, not just Lindsay and me.
This month we're supporting CSC by donating to their meal fund. Every child at CSC gets three solid meals a day. All 90+ of them! That's a lot of hungry mouths to feed.
The post Traffic and Income Report – June 2016 appeared first on Pinch of Yum.